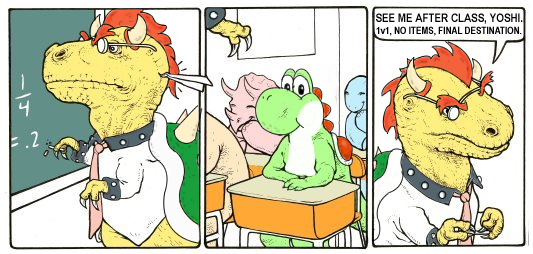 There aren't a lot of papers whose process were memorable for me. But there was one that stood out, when I was a freshman in my community college. I had to do research about Mesopotamian River or something, I can't really remember all the details. I just know that it involved a lot of time and research. What I do remember clearly though, is the big, red F I got on that essay and much like Kate's professor, my own instructor's left a "come see me" note on my paper.
I tried following her instruction but every time I would show her my intro and thesis, she would make vague comments about how my intro wasn't right and that I kept using the wrong tenses. For some reason, she was really focused on that particular grammar problem, but still not giving much commentary on other aspects or what she was really looking for.  I essentially gave up on that particular paper but tried my best to mold my future papers into her liking, which is easier said than done when I didn't really know what she wanted.
Unlike Kate, I didn't choose to seek other sources of help out. Which is a foolish move on my part, but I've never really been the type of student who goes to tutoring help (and to that extent, professor help) unless required to. Maybe it's pride or maybe it's stubbornness, regardless, it tends to be my weakness. Eventually, I did ask a couple of classmates to see how they fared in their papers and through that I was able to get a better sense of her expectations. In the end, I passed that class with a C, which given my struggles with that class, I honestly considered it a blessing. After all, it was better than failing out right. I had never really failed a paper as badly as I did before that class. But in realizing that the professor's vague instructions, a part of me didn't find much reason to put effort into my work. My freshman self saw no incentive to try and do better when I had no way of knowing the proper steps to take to get to where I needed to be.
I think about Nelson's "school culture", and the ways that students adapt to vague instructions. I like this quote she brings up about how,
"students attempt to manage the ambiguity and risk of academic tasks by focusing on the products they are required to produce instead of on the intellectual processes they are being asked to engage in and by inventing coping strategies that allow them to circumvent the demands of particular assignments. In other words, students find shortcuts for producing acceptable papers" (417).
I'm no stranger to those shortcuts. I imagine we all have paper(s) that we've BS'd,  and if not, you are all better people than I am. But short cutting becomes a way to survive the class, a way to get by. It's not a great coping strategy because it doesn't really get a person to think about the "intellectual process". But when the grade is all that matters, what is the incentive then to extend beyond creating content only for a passing grade? I think that's an important question to think about especially when school culture relies so heavily on a strict guideline to determine the worth of our work and not always on what we as students are learning or getting out of that work. So then it becomes this thing we're your stuck between a rock and hard place. Do you take the riskier and harder road like Helen in Nelson's reading? But have a higher chance at failing to meet the criteria or even failing the course entirely? Or do you take a more Kate/Art/Debra approach? Not really that thought provoking or engaging but at least you can fly under the radar with a passing score. For me, looking at it through that light, it becomes easier to see why shortcuts are the more viable option. Maybe not the "right" option, but in the culture of school it can become a way to adapt to a system that sometimes doesn't really care about what your opinions are, only how well you can follow a format.